A wedding at the First Nations Hotel-Museum, where encounters of the others make all the sense.
Enjoy the atmosphere of the fireplace, share a gourmet meal with your loved one, enjoy the moment, this is what could look like the most beautiful day of your life.
Combining modernity and tradition, the Hôtel-Musée Premières Nations offers a unique and inspiring decor in harmony with nature. Your guests will be welcomed in a place of culture and authenticity in the purest Huron-Wendat traditions.
Whether for a ceremony, a cocktail, for your photos or the reception, several areas are available either inside and outside:
Museum Terrace
Restaurant Terrace
The Palisades of the Longhouse
Huron-Wendat Museum
Wendake Room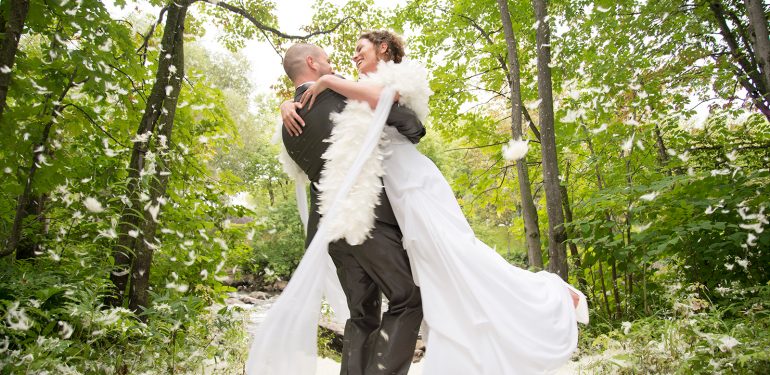 Combined with the expertise of our Chef and the flavors of the Boreal terroir specific to the First Nations, the gastronomic finesse of our table is incomparable.
Our experienced team will be happy to assist you in the planning process of your event, making it a precious and unforgettable memory.
PACKAGE FOR TWO
A flute of champagne
3 course meal
ENGAGEMENT PACKAGE
A flute of champagne
4 course meal
½ bottle of wine
HAPPINESS PACKAGE
Kir wendat cocktail
5 course meal
½ bottle of wine
DOMINICAL PACKAGE
(not available on holidays)
Mimosa cocktail
Brunch served in the restaurant or in a private room
*Custom package also available according to your needs. All our packages require a minimum of 50 adults.
Our distinctions:
Exceptional location for your pictures
Private room
Possibility of on-site accommodation *
Possibility of offering 3 choices of main meals for no additional cost
Les à-côtés:
Champagne Bar
Sweet – Salty table
Late-night buffet
Sunday Brunch
Museum or longhouse visit
Nation Santé-Spa
TRADITIONAL JEWELRY WORKSHOP
Purification ceremony
*A minimum of reserved rooms may be required on certain dates.
Our commitment is to offer you an enchanting setting that you will then tune to the colors of your personality.
Contact us for a creative and customized offer:
Marie-Andrée Boivin
(418) 847-0624, ext 2009
maboivin@hotelpremieresnations.ca