Activity:

Discovery interpreted tour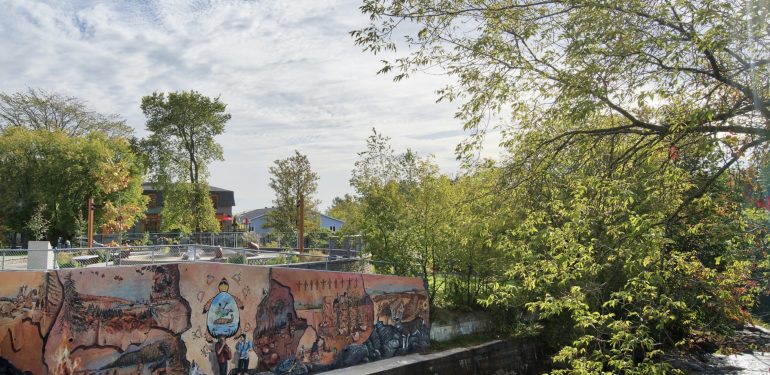 Schedule
12:30pm (tuesday, thursday, saturday)
N/A
Guided Discovery Tour (summer)
ADAPTED TO THE PANDEMIC CONTEXT – AN ACTIVITY TO DISCOVER IN THE GREATER QUÉBEC CITY REGION
FIVE (5) SITES FOR ALL TO SEE – OR ALMOST – BY RESPECTING YOUR SCHEDULE AND THE PUBLIC HEALTH RULES IN FORCE.
(15 to 20 minutes per site every half hour)
• Beaver welcome: Huron-Wendat Museum
• Home of the bear: Ekionkiestha' National Longhouse
• Deer welcome: Notre-Dame-de-Lorette Church
• Home of the wolf: Kabir Kouba Falls
• Home of the turtle: Place de la Nation Onywahtehretsih
• Tsawenhohi' House
Demonstrations of Indigenous traditional knowledge
Awen' (water) Boutique
Permanent exhibition on Grand Chef Nicolas Vincent Tsawenhohi
Schedule: Coming soon
Tours in English and French.
To ensure an immersive experience allowing you to discover Indigenous culture and more specifically Huron-Wendat culture, we've reinvented the Discovery Tour! We present a new way to discover the history, culture, and historical monuments of Wendake, such as the Notre-Dame-de-Lorette Church, as well as some natural beauties to discover, such as the Kabir Kouba Falls in a safe visit.
When you arrive at the Huron-Wendat Museum, you'll be greeted at the Grand Shaputuan in front of the Hôtel-Musée Premières Nations. Afterwards, your guide will have you placed in the Circle near the palisade of the longhouse where you'll be accompanied to your first activity site (12 people maximum).
During your journey, you'll visit the permanent exhibition Territories, memories, knowledge inside the Huron-Wendat Museum and the impressive Ekionkiestha' National Longhouse surrounded by a fence made of over 1,500 trees and inspired by the pre-contact period, and the Notre-Dame-de-Lorette Church built in 1730, where several liturgical objects offered to the Nation are still on display. The route will continue to the new Place de la Nation Onywahtehretsih as well as the lookout overlooking the Akiawenhrahk' River, where you can observe the magnificent Kabir Kouba Falls. Kabir Kouba Falls is historically significant: several archaeological discoveries were made there. In short, the new guided visit formula offers an in-depth discovery of Huron-Wendat history and culture to be experienced as a family.
During your visit, you'll be invited to stop at Tsawenhohi' House where an Indigenous artisan will, among other things, demonstrate their traditional skills. Tsawenhohi' House also has a permanent exhibition on Grand Chief Nicolas Vincent Tsawenhohi, one of the great diplomats of the Huron-Wendat Nation, who lived in this ancestral home.
Reservation required.
418-847-1835 or online