Package:

Overnight In The Longhouse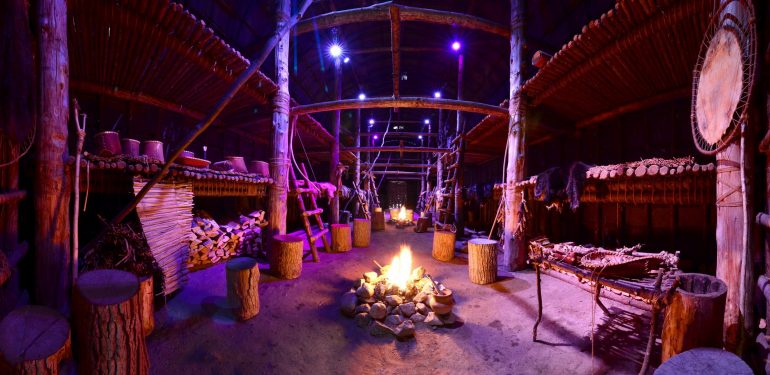 The longhouse, a dwelling of the Iroquoian people built entirely of wood and bark and heated with three fires, gives visitors seeking unusual accommodation an authentic immersive experience. It's a symbol of the family and legendary hospitality of these ancient peoples. In the magical setting of our National Longhouse, you will travel back to pre-colonial times to enjoy the experience of an overnight stay in this traditional dwelling.
This night of unusual accommodation is just as suitable for families, couples, and groups of friends as it is for school groups. This immersion in the Iroquoian ways of life will give you unforgettable memories of your stay in Wendake.
This package includes:
• Overnight stay at the Ekionkiestha' National Longhouse;
• Our popular "Myths and Legends" activity: an authentic experience of the thousand-year-old traditions of Indigenous culture. A must for families, couples, and groups of friends alike;
• The services of a fire warden who takes care of your dreams and the fires throughout the night;
• A room at the Hôtel-Musée Premières Nations for modern convenience;
• Sleeping bag;
• Access to the swimming pool*;
• Breakfast at Restaurant La Traite; and
• Service charge.
Overnight stays are offered in both winter and summer. The type of sleeping bags provided are chosen according to the temperature and the amount of fire ignited inside.
From:
*$650 per person, double occupancy
or
*$1,222 per family (two adults and two children 6 to 12 years old)
*Taxes not included. Additional fees may apply for Sunday brunch.
Book your immersive stay now.
*COVID-19: To ensure your safety in a pandemic context, the swimming pool is only accessible by reservation. This is mandatory for your family and, if available, gives you exclusive access to the pool and fitness room for a period of 30 minutes.
Additional active recommendation:
For a complete immersive experience, you can include one of our craft activities in this package ($). In addition to spending a treasured moment with one of our artisans, you will bring home the souvenir you made. There are three possibilities for craft workshops: making a traditional necklace, making a talking stick, or making a porcupine quill bracelet. In all three cases, your creation as well as its symbolic universe will be explained to you.
Activities offered in English and French, by reservation.
Package recommendation:
Are you looking for a complete immersive experience allowing you to learn more about the Huron-Wendat and Indigenous ways of life without actually sleeping in the longhouse? We recommend the "Kwe" package, which includes several elements of discovery combining modernity and traditions and two nights in our comfort rooms to ensure a restful sleep. This is a package that was created to wish you "welcome" to Wendake and allow you to discover this unique destination close to Québec City as much as possible.
Starting from
650
$
Per person
Double occupancy
Starting from
1222
$
Per family
2 adults & 2 children (6-12)