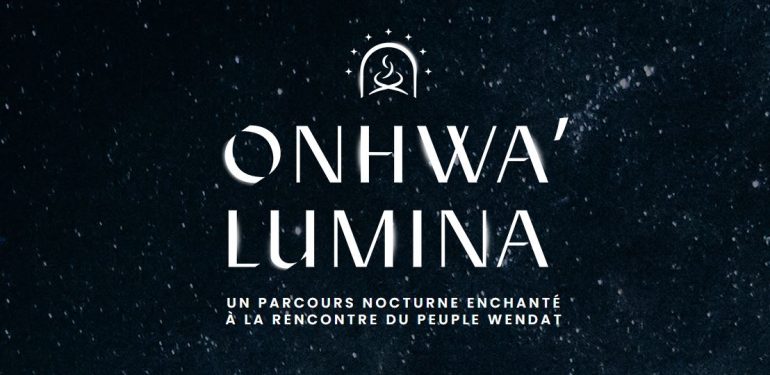 ONHWA' LUMINA package
Yiheh! Welcome!
In Wendake, very close to Quebec City, you are invited to discover an enchanted journey celebrating the life and values ​​of the great Wendat nation.
As night falls, along a 1.2 km route, you will be transported by the magic of light, sound and video projections. This multimedia experience will immerse you in a collective adventure rich in emotions, connecting the founding myth to a future bearer and unifier.
Under the starry vault, immerse yourself in ancestral rhythms and songs. Step into the Great Circle and feel your connection with all living beings.
Onhwa' meet the Wendat people.
This package includes :
One (1) night in a comfort room
One (1) 3-course dinner at La Traite restaurant
One (1) breakfast at La Traite restaurant
Access to the ONHWA' LUMINA site one (1) per occupant
*********************************************************************************************************************
Package suggestion
Do you want to travel with your dog, your cat? We have a package specially designed to allow this getaway!
Your faithful companion will be welcomed according to the same traditions of hospitality recognized in the Huron-Wendat culture.
Little special attentions will be waiting for him in your room such as a comfort cushion to rest from the trip or his outdoor walks or cat tree to continue doing his daily exercises, beautiful stainless steel bowls and of course, little treats!
The 4-legged package is a getaway, close to Quebec City as much for you as for your faithful companion.
Starting from
194
$
Per person
Double occupancy
Starting from
472
$
Per family
2 adults & 2 children (6-12)